Beauty business helps puts pretty face on recession
SYDNEY (Reuters Life!) - As the economy gets ugly, droves of out-of-work Australians, male and female, are finding a career in beauty really pays.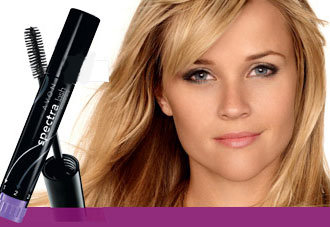 Spectralash mascara from Avon
Avon
, the largest direct selling beauty company in the world, has recruited more than 7,000 door-to-door saleswomen -- and men -- in February alone, as the global financial crisis deepens and Australia's economy and jobless rate take a turn for the worse.
The company, which has tens of thousands of representatives in Australia, said in addition to the usual stay-at-home mums looking for extra income, new recruits include female executives and financial professionals, as well as a few more men.
"The downturn in the economy has seen a huge increase in Avon representatives," Avon's Advertising and PR Manager Michaela Groves told Reuters.
"We have seen a rise in women who have been made redundant from professional and corporate finance type roles, and who now need to earn money. We are also seeing women who worked part-time and are joining up to supplement the household income because things are a little bit tough at the moment."
With the economy in recession, the number of unemployed in Australia is rising, with experts predicting the jobless rate to almost double to 15-year highs of 8.5 percent in the next financial year.
Currently, Groves said three percent of Avon representatives are men, mainly drawn to the prospect of having a job, even if it's in a field traditionally reserved for women.
Avon representatives earn a percentage of the price of each product they sell, which can be as high as 50 percent, and the company allows them work at their own pace. A 2008 survey shows that 4 out of 10 Australian women are Avon customers.
Former truck driver Victor Grant, 59, is one of the male success stories.
He joined Avon after being knocked back by other employers due to his age, but over the past four years, he has managed to build up a steady annual income of some A$47,000 (US$36,000).
"A few of my mates used to rib me over selling Avon, but then I started talking them into trying a bit of the men's stuff and the ribbing stopped," Grant told Reuters.
"For a learner it's not so bad, but I'm nowhere near the biggest in Australia. Some sell around a million dollars."
Grant's customers include some 800 households in his small town in northern New South Wales, but they all know better than to ask him about the latest colors.
"I just tell them, don't ask me what shades go with what, I can tell my basic colors, but when it comes to shades like lipsticks I've got no idea," said the color-blind Grant.
By Pauline Askin
(Editing by Miral Fahmy)
© Thomson Reuters 2023 All rights reserved.