Elson to front biggest ever John Lewis campaign
LONDON (Reuters) - Department stores group John Lewis announced its biggest ever fashion advertising campaign on Saturday, stepping up competition in a market suffering from weaker consumer spending and a wet summer.
The employee-owned group, which is due to publish interim results on Thursday, said the 1.5 million pound campaign would be fronted by modelling icon Karen Elson.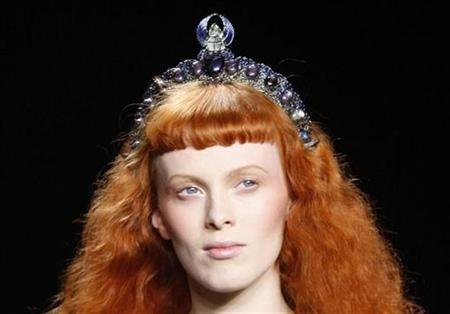 It will start on September 15 to coincide with London Fashion Week and will turn up the heat on rivals such as Marks & Spencer and Debenhams.
John Lewis has already reported a 3.5 percent rise in sales for the 26 weeks to June 26, including a 0.6 percent increase at its department stores and a 5.5 percent rise at its upmarket Waitrose supermarkets.
The group, owned by its 69,000 workers, will unveil its first-half profit performance on Thursday, after making 146 million pounds before tax in the comparable period last year.
By casting Karen Elson, John Lewis is following a trend set by luxury brands such as Prada, Yves Saint Laurent and Chanel, which have all moved away from young unknowns in favour of celebrity models -- respectively Linda Evangelista, Naomi Campbell and Claudia Schiffer -- in their Autumn/Winter advertising campaigns.
Elson is famous for her flaming red hair and translucent skin, as well as her marriage to Jack White, frontman of American rock duo White Stripes. She will appear on bill boards, in store and in glossy magazines including Vogue and supplements.
Fashion retailers Primark, Next and French Connection are all due to publish trading updates or results next week.
(Reporting by Mark Potter; editing by Sophie Walker)
© Thomson Reuters 2023 All rights reserved.