Face masks part of Japan fashion chic for decades
TOKYO, May 4, 2009 (AFP) - Amid the swine flu outbreak, face masks are becoming a common sight around the world, but in Japan they have been part of everyday streetwear for decades and even spawned their own fashion trends.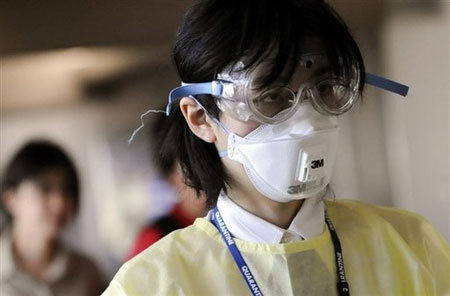 A quarantine officer wearing a protective mask leaves Narita International airport in Japan on April 28. Amid the swine flu outbreak, face masks are becoming a common sight around the world, but in Japan they have been part of everyday streetwear for decades and even spawned their own fashion trends.
Japan's love affair with surgical masks baffles many visitors who are disconcerted at the sight of air passengers, commuters and office workers wearing the protective cotton safeguards otherwise associated with hospitals.
Gauze masks designed to stop bugs, dust and allergens are sold in convenience stores on almost every city street in Japan, which counts on 42 manufacturers to protect its population of 127 million from airborne nasties.
"The Japanese essentially like cleanliness and hygiene," Naoya Fujita, head of the Japan Hygiene Products Industry Association, told AFP.
"I think it's part of the Japanese psyche to want to protect yourself at all cost from outside diseases. That feeling is stronger than the feeling of social embarrassment at wearing a mask."
Social etiquette in Japan also dictates that people don't just wear masks to protect themselves, but also to shield others from their own germs when they catch a cold, he said.
Latest industry figures show 1.96 million masks were made in Japan in 2007, including models against viruses and bacteria, pollen, industrial pollutants, dry airplane air, and as a thermal protectors in winter.
Japan has no confirmed cases yet of the deadly swine flu that has spread from Mexico to more than a dozen countries, but sales have already soared as the island-nation anticipates the arrival of the A (H1N1) virus.
Unicharm, a leading hygiene product maker, has ramped up production after mask sales rose four times above its April target, and seven-fold year-on-year, a company spokeswoman said without disclosing figures.
On national television, experts have put under the microscope face masks handed out in Mexico and concluded that the domestic types, with their densely woven fabric, were stopping viruses more efficiently.
Cloth and brass wire masks became common in early 20th century Japan as the country started to industrialise and factory pollution rose sharply.
Their use spread during the 1919 Spanish flu, again after Tokyo's Great Kanto Earthquake of 1923, and when influenza reemerged in 1934.
The mask have been a common sight ever since, with sales spiking in winter and during major health scares such as the SARS epidemic six years ago.
In Tokyo, people also use them against cedar pollen, powerful allergens blowing in from forests that were planted around the capital as part of a major post-World War II reforestation campaign.
With their ubiquitous use in fashion-conscious Japan, it's no surprise that makers have come up with masks for every occasion -- from cute pink Hello Kitty styles to upmarket models bearing luxury-brand logos.
Unicharm's "Mask Collection" featured a classy jewel-studded number and a type that stops lipstick smear, together with tips on how to coordinate them with different outfits and hair styles.
Plain or chic, the question still lingers on how well they work.
When British medical officials last week suggested that face masks provide "a false reassurance," the Japan Times daily covered the debate with an article headlined "Britain, Japan at odds on face mask merit."
Experts say the level of protection depends on the mask itself, and how long it is worn, and in what environment.
"It's better than nothing, but it's hard to completely block out an airborne virus since it can easily slip through the gaps," said Yukihiro Nishiyama, professor of virology at Nagoya University's School of Medicine.
"The best thing is to avoid large crowds, especially in enclosed spaces, because viruses can spread more quickly there than in the open where they can be killed by sunlight."by Kimiko de Freytas-Tamura
Copyright © 2023 AFP. All rights reserved. All information displayed in this section (dispatches, photographs, logos) are protected by intellectual property rights owned by Agence France-Presse. As a consequence you may not copy, reproduce, modify, transmit, publish, display or in any way commercially exploit any of the contents of this section without the prior written consent of Agence France-Presses.