Green Street jewellers bring Bollywood to London
By David Brough
LONDON (Reuters) - Green Street, a slice of India in one of the most depressed areas of London, is branding itself as the up-and-coming jewellery quarter for shoppers who love South Asian style.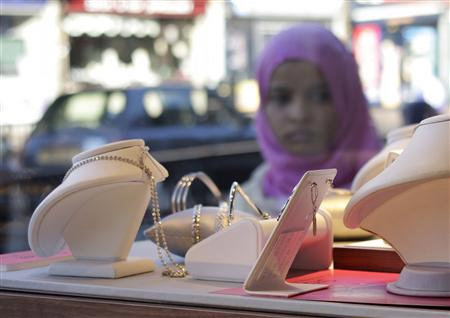 A woman looks at a window display as she walks past "PureJewels" on Green Street, in the east of London, July 23, 2008 - Photo : Simon Newman/AFP
A long avenue where sari shops mingle with curry houses, Bollywood DVD outlets and the aroma of freshly cooked Indian food, its jewellers offer necklaces and bangles of deep yellow 22-carat gold and diamonds, as well as cheaper designer and costume jewels, for weddings and parties.
Home to two dozen fine jewellers and an equal number of costume jewellery outlets, the street heaves with shoppers from the dynamic British Asian community, whose entrepreneurship has had a huge impact on economic progress.
Jewellers building the Green Street brand hope it can help regenerate Newham borough, where unemployment runs at around 11 percent.
"Green Street is very quickly becoming one of the fastest- growing areas for South Asian shopping," said Jayant Raniga of PureJewels at number 290-292, a member of the steering group of the Green Street Jewellers' Association (GSJA).
"People can find products on Green Street that they would not find anywhere else in the UK," added Raniga, whose grandfather immigrated to London 30 years ago and still toils in his workshop in his 87th year.
The number of fine jewellers has doubled in the last 10 years and the costume jewellers have quadrupled: street jewellers believe they now account for 1 percent of the country's sales of fine jewellery which The Goldsmith Magazine put at 2.5 billion pounds in 2007.
Their rapid proliferation underscores the economic dynamism of the thrifty British Asian community over the past 30 years.
"There is analysis showing that two of the fastest-growing markets for jewellery are India and China," said Gordon Hamme, publisher of The Goldsmith Magazine.
"The driver of Green Street trends is an extension of the culture in South Asia of buying gold and diamonds. It is a cultural imperative for families in India to give gold as a store of wealth and as an investment."
According to the Centre for Social Markets, some 2 million people of South Asian origin live in Britain, forming the largest ethnic minority group in the country and estimated to contribute over 5 billion pounds to the economy.
"The majority of people around me, in my family, use yellow gold. On Green Street, there is a lot more choice in terms of style than other areas I know," said Sheetha Uddin, 24, shopping with her boyfriend Simon Wood for a 22-carat yellow gold ring with a white diamond for her wedding.
GREEN STREET MEETS BOLLYWOOD
Innovation by the cluster of jewellers based in and around Green Street has inspired a variety of styles.
Jewellery fuses with fashion, as customers take newly purchased saris to jewellers where assistants -- with an expert eye -- match fabric to jewel.
Pieces can range from a precious diamond necklace for 25,000 pounds to items made from Swarovski crystals for a few hundred pounds, and silver and costume jewels, including aluminium bangles at just 20 pence each.
Contemporary British Asian jewellery tastes mirror Bollywood and TV culture, and emerge in an opulent array of designs.
In a sign of more affluent times, British Asian brides today insist on a whole diamond set among their golden wedding jewels, rather than having just the 22-carat gold of ancient times, said John Jacob, marketing manager of Joyalukkas at number 284.
Joyalukkas is a leading Dubai-based retail jewellery group which opened its shop on Green Street in 2006, a ceremony officiated by celebrated Bollywood actress Bhumika Chawla to a fanfare of local publicity.
Recent Bollywood movies such as Devdas and Jodhaa Akhbar, both starring Aishwarya Rai, have set a trend for South Asian jewellery style -- and determined the current flamboyant tone, Raniga said.
Some indigenous British people have developed a taste for the South Asian styles to be found here, and Joyalukkas also sells chunky yellow gold bracelets, popular among so-called "mahogany brides", Britons of Caribbean origin.
Jewellers offer Western designs to appeal to more globalised tastes, such as solitaire bridal rings in white gold and platinum. Contemporary designer jewellery is also available.
"Second- and third-generation British Asians are more anglicised. They are more likely to be influenced by what their peers are wearing," Raniga said.
The jewellers are also encouraging the work of the young jewellery design graduates of Newham College.
Graduates' latest designs are on display in glass cases at Silver Statements, a silver jeweller next to costume jeweller Bees and fine jeweller PureJewels.
"Every single student who graduates has showcase space," Raniga said. "It gives them a platform to move forward."
(Reporting by David Brough; editing by Sara Ledwith)
© Thomson Reuters 2023 All rights reserved.