Palm oil buyers face green scorecard
By David Fogarty, Climate Change Correspondent, Asia
SINGAPORE (Reuters) - Major palm oil buyers face being graded for their green credentials after figures showing they have bought only a fraction of the sustainable palm oil available, environmental group WWF said on Tuesday 12 May.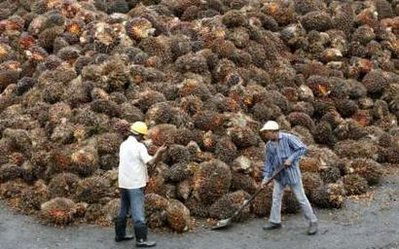 Workers gather oil palm fruits at a factory in Sepang outside Kuala Lumpur - Photo: REUTERS/Bazuki Muhammad
About 1.3 million tonnes of certified sustainable palm oil has been available since November last year, but only about 15,000 tonnes have been bought, WWF said.
Palm oil is used as a vegetable oil for cooking, in chocolate bars and margarine, as well as in soaps and cosmetics and in biofuels for transport. Buyers include Unilever, Colgate-Palmolive, L'Oreal and Cadbury.
WWF, in a statement, said it would assess the world's major users of palm oil over the next six months and publish a "buyer's scorecard" that would show companies that support sustainable palm oil and those that have not fulfilled commitments to buy it.
"We don't have a lot of information about what's happening in the market yet," Carrie Svingen, forest conversion programme coordinator, WWF International, told Reuters from Bali, Indonesia.
"That's why we're doing this scorecard exercise so we can see what companies are doing and motivate some more activity in the market."
She said the issues appeared to be cost and uncertainty of supply.
"Buyers have a lot of excuses at this point we just need to drill down and figure what's actually happening."
WWF helped set up the Roundtable on Sustainable Palm Oil (RSPO) in 2002 for the industry to develop greener standards after criticism plantations were leading to large-scale deforestation and loss of habitat for endangered species.
Certified sustainable palm oil has been available since November 2008. It is meant to assure buyers that tropical forests have not been cleared and that environmental and social safeguards have been met during production.
But certification can add a premium of around $50 a tonne to palm oil in the wholesale market.
Benchmark palm oil prices closed on Monday at 2,660 ringgit ($758) a tonne.
RSPO president Jan Kees Vis said last month that uptake of certified palm oil had been slow because of the economic crisis.
"Companies are not really willing to pay the premium -- anything that increases cost is out of the question," said Vis.
WWF said the scorecard would rank the commitments and actions of major global retailers, manufacturers and traders that buy palm oil.
But the lack of demand for certified palm oil could undermine the RSPO, Rodney Taylor, director of WWF International's Forests Programme, said the statement.
"It threatens the remaining natural tropical forests of Southeast Asia, as well as other forests where oil palm is set to expand, such as the Amazon."
(Additional reporting by Catherine Hornby in Amsterdam; Editing by Alex Richardson)
© Thomson Reuters 2023 All rights reserved.