Swiss watch exports face sharpest decline in 20 years
ZURICH, June 23 (Reuters) - The Swiss watch industry is facing its sharpest drop in demand in more than two decades as the wealthy put off buying expensive timepieces and retailers slow orders as they try to get rid of excess stock.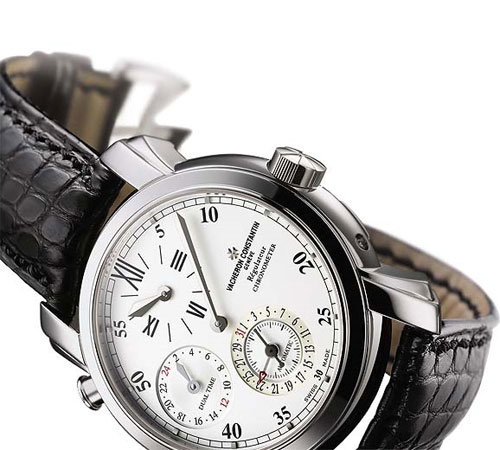 Vacheron Constantin, a Richemont Group brand
Watch exports tumbled 27.6 percent in May, data from the Swiss Watch Federation showed on Tuesday 23 June, bringing the drop in demand in the first five months of the year to 25 percent.
Exports of watches costing more than 3,000 Swiss francs ($2,760) fell 30 percent, while demand for watches costing between 500 and 3,000 francs slipped 20 percent, the federation said.
"Since March, higher-end watches have been declining more than the lower-end ones. This is likely to hit Richemont (CFR.VX) more than Swatch Group (UHR.VX) as Richemont is stronger in this category," Vontobel analyst Rene Weber said.
Demand for watches costing between 200 and 500 francs held up best, falling around 10 percent, the federation said.
By 0734 GMT, shares in Richemont had fallen 1.5 percent to 21.06 francs, while Swatch Group shares were trading 1.7 percent lower at 163.50 francs, underperforming a 0.2 percent lower DJ personal and household goods index .SXQP.
Consumers are putting the brakes on spending as the global recession is forcing companies to axe jobs. The gloomy consumer sentiment has also prompted retailers to stop ordering new goods as they work to get rid of old stock.
"The data reinforces our view the year is going to be a tough one for watch makers as we assume a 20 percent decline in watch exports for the year," Kepler Capital Markets analyst Jon Cox said.
Demand from Hong Kong, the biggest market for Swiss watches, fell by 26.2 percent, while exports to the United States tumbled 42.7 percent -- largely in line with the pace of decline in the previous month, the federation said.
Exports to France and Germany slipped 13.5 percent, while demand from Italy dropped 17.8 percent.
"Now, for the first time we saw that Western European countries had a double-digit decline," Weber said.
Exports to Singapore and China improved compared to April, but still remain on a downward trend, the data showed. (Reporting by Katie Reid; Editing by Rupert Winchester)
© Thomson Reuters 2023 All rights reserved.