Abercrombie lays off workers in "ongoing process"
SAN FRANCISCO, Jan 23 (Reuters) - Abercrombie & Fitch Co (ANF.N) has laid off about 50 employees at its headquarters, a spokesman said on Friday, as part of what the teen retailer called its ongoing focus on managing expenses in the recession.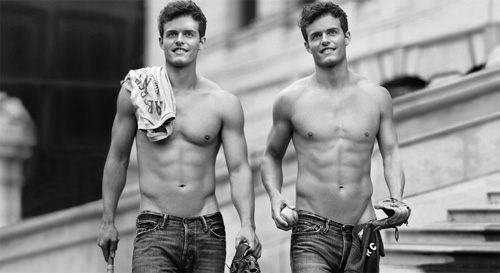 Abercombie&Fitch spring-summer 2009 campaign
The New Albany, Ohio company, which has seen its sales of trendy clothing decline as consumers gravitated to lower-cost brands on discount, would not disclose the amount of savings it would gain from the cuts, which mainly affected support staff.
Spokesman Eric Cerny said the budgeting process was "ongoing" and he did not know whether there would be more layoffs.
"It's something we've been very open about -- looking at expenses and ways to be more efficient. This is part of it," Cerny said.
The news was first reported by the Columbus Dispatch on Thursday.
In an analyst note, Credit Suisse's Paul Lejuez said the cuts were a positive step.
"The absolute number may seem small in comparison to some of the job cuts seen in other industries, but it still represents a step in the right direction and a proactive approach to managing headcount and ultimately improving efficiency," Lejuez wrote.
Abercrombie has stalwartly declined to discount its merchandise, or tinker with the image of its stores, to save money in the downturn. The company believes such moves could undermine its brand's cachet as an upscale retailer.
"While there has been recent concern that CEO Mike Jeffries is reluctant to cut expenses (similar to the concern over his reluctance to pull promotional levers), we believe that this demonstrates the opposite," wrote Lejuez.
In recent weeks, retailers including Saks Inc (SKS.N), Children's Place Retail Stores (PLCE.O) and Charming Shoppes Inc (CHRS.O) have announced job cuts. So have apparel and shoe makers such as Burberry Group Plc (BRBY.L), Phillips-Van Heusen Corp (PVH.N), Kenneth Cole Productions Inc (KCP.N) and Brown Shoe Company Inc (BWS.N).
Earlier this month, Abercrombie warned its fourth-quarter profit would not meet its previous expectations. The company, which operates the Abercrombie & Fitch, abercrombie, Hollister and Ruehl chains, has posted double-digit same-store sales declines since August. (Reporting by Alexandria Sage; Editing by Andre Grenon)
© Thomson Reuters 2023 All rights reserved.